"Nancy" Open Source Publishing (BE)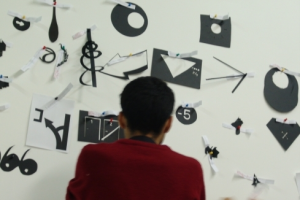 Come and participate in the creation of an ornament font! As a trainee typographer during the time of your visit to the exhibition, you will be called on to contribute to Nancy, the font with collaboratively created characters. How to? Just redraw the standard symbols of two fonts (Dingbats and Unicode Miscellaneous Symbols) as you wish. Using basic means, you can make your own creations, taking inspiration from symbols drawn in previous workshops or giving free rein to your imagination.
Open Source Publishing is a collaborative initiative born in 2006 within the framework of the Brussels association Constant. The core of the collective consists of a dozen people from different backgrounds and complementary specialities : artists, cartographers, activists, typographers, writers, programmers, illustrators. Recently rewarded with a Fernand Baudin prize and a Moretus Plantin prize, OSP questions the practice of free software, tests the possibilities of open source tools in graphic design and in a professional environment.
http://ospublish.constantvzw.org
http://ospublish.constantvzw.org/works
http://ospublish.constantvzw.org/foundry
"Drawn Together" Evan Raskob (US)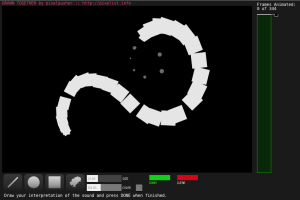 Lines, circles, squares, dots and various squiggles: these are simple forms for an intuitive and childlike drawing where the image you're composing is associated with a musical loop of a song. The images of your graphic tablet drawings are then put together with the ones of other visitors, which will make up an animated exquisite corpse style video clip.
pixelpusher (Evan Raskob, USA) is a multimedia artist using primarily free software, whose works spans interactive art, image, sound, and performance. Recent exhibitions include Waving / Drowning, a study of movement crystallized into a series of digital prints, sculptures, and interactive software. Evan also founded Openlab Workshops to empower creative people in making art through learning open source and free software tools.
http://pixelist.info/drawn-together/
"Laptopograms" Aditya Mandayam (IN)
Have you ever thought of producing silver images using the light sources of a mobile phone, television, laptop screen? This crafty idea takes the opposite course of the digital photography principle by updating the photogram principle, a photographic image produced without a camera or enlarger, and created by placing objects on photosensitive surface exposed to a light source. In the case of the laptopogram light source and objects are replaced by computer screens whose trace would later be revealed as a screen shot, in a literal sense.
Aditya Mandayam's interests lie at the cross-section of photography, food, number theory, and the internet. Previous occupations include bar-tending, research mathematics, lexicography and coffin-polishing. Since April Adi has lived inside a pinhole camera. Within this home are his other cameras. He makes photos with them. Sometimes he takes photos of his home. Sometimes of the cameras within. Sometimes he takes screenshots.
http://cixa.org/works/laptopogram.php
"Digital dump" Loredana Bontempi (IT)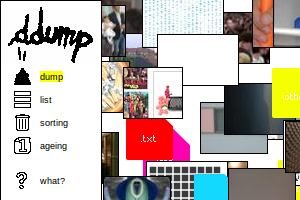 Ddump is an online digital dump, where you are invited to share your computer trashes and encouraged to take ownership of files left by previous owners. Playing with the recycling trends in contemporary design and with existing metaphors in graphical interfaces such as the desktop or the trash, ddump takes an unusual look at your "dumped" files by offering them a second life as raw material for designers and artists.
Loredana Bontempi received her bachelor degree in Visual Communication Design from Politecnico di Milano (IT). After some time in Europe working as a graphic designer, as part of the design group parcodiyellowstone, she graduated with a master degree in Media Design and Communication from the Piet Zwart Institute in Rotterdam (NL). Loredana is now back in Italy where she is further developing her work around free culture and media design ethics.
http://pzwart2.wdka.hro.nl/ddumpapp/ddump/home/
"make art 2010" LAFKON (DE)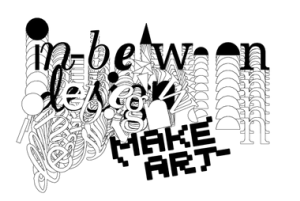 Inkscape meets the Bash meets Processing meets the Philosophiae Naturalis Principia Mathematica. In plaintext. Glyphs and graphics enter the wonderful world of physics to become posters for make art 2010. Thumbs up for Ricard Marxer and his Fisica and Geomerative libraries.
LAFKON is a laboratory for graphic design occupied by Benjamin Stephan and Christoph Haag. Lately they have been doing practice-based research on generative processes as design tools and started to rebuild Deep Blue to work for them as a layout intern.
http://www.forkable.eu/generators/i-bd
http://www.lafkon.net/
exhibition "in-between design"
«in-between design: rediscovering collaboration in digital art», an exhibition presenting the artworks Nancy / Open Source Publishing (Belgium), Ddump / Loredana Bontempi (Italy), Sonobotanics / Marije Baalman (Netherlands), Drawn Together / Evan Raskob (United States), Trademark_Electric_Painting / Dave Young (Ireland), Yeep!Eep!Eep! / Daniel Temkin (United States), Laptopograms / Aditya Mandayam (India), make art 2010 posters / LAFKON (Germany).
Opening on Thursday 4th November 2010 at 19:00 with MCLD "CODEBOX" performance.
From 5th until 7th November 2010 - opened 10:30-19:00
+ by night 21:00-00:00 on Saturday 6th November
Guided tour of the exhibition (French): Friday 5th at 17:00 and Sunday 7th at 18:00
Venue: Maison de l'Architecture
free entrance
"CODEBOX" MCLD (GB)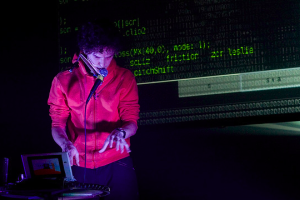 CODEBOX performance will be played during the opening of "in-between design" exhibition
MCLD brings together for the first time two different improvisatory worlds: beatboxing and livecoding. Beats and bleeps and noises; all improvised. Come and see if it's even possible!
Dan Stowell (MCLD) is a musician, programmer, and scientist. He recently completed a PhD at Queen Mary University of London developing techniques to use voice sounds such as beatboxing to control electronic instruments. Musically he combines live-coding with beatboxing - solo and as part of the duo Spoonfight - and also produces installation work as part of C4DM Presents.
"Sonobotanics" Marije Baalman (NL)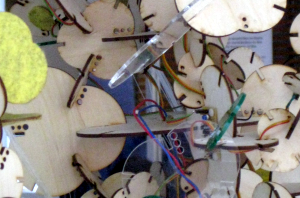 Periperceptoida Triquetrus Nutandis and Periperceptoida Triquetrus Dependis have all the characteristics of a plant: roots, stem, buds, leaves and flowers... but they are in fact tiny electroacoustic creations developed within the scientific field of Predictive Sonobotanics. This research attempts to create models of sonobotanic plants with the aim of predicting their behavior and to gain a deeper understanding of the subtleties in... sonobotanic plant behaviour.
Marije Baalman is a freelance artist interested in the realtime interactions of her work with the environment, the performer and the audience. She composes processes which evolve over time and make themselves apparent in sound, light and sometimes other media. She has studied physics, acoustics and computational arts at various universities and works internationally both solo and in collaborations.
"Trademark_Electric_Painting" Dave Young (IE)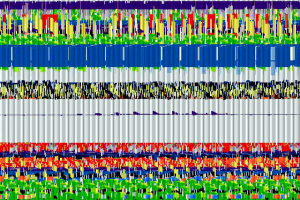 Coca Cola, Google, Amazon, Facebook, Shell, Microsoft... They rule our lives with their ubiquitous visual identity. With Trademark_Electric_Painting, the logos and colors of these big trademarks are dissected, deconstructed and continuously modified to become abstract electronic compositions. This new marketing grammar is a noisy-glitch delight!
HendersonSix is a new media artist currently based in Den Haag NL, often working with code/electronics/sound to investigate the roles of the artist, the technology and the participant as partial-authors in the creation of interactive and generative artworks. His work has been shown in Dublin IRL, London UK, and Rennes FR at various festivals and exhibitions, and he has given a talk at Trinity College Dublin's Science Gallery on graphic scores as an interpretive visual language for digital audio composition.
http://hendersonsix.com/#502594/TradeMark_Electric_Painting
"Yeep!Eep!Eep!" Daniel Temkin (US)

"Yeep!Eep!Eep!" - Yeep!Eep!Eep!Program (or YEEP) creates databent images using the unique retro pseudo-graphics of the Commodore 64. By manipulating the VIC registers, YEEP generates images based on data that happens to be in RAM at the time, and what was on the screen just before the program ran. This information is mediated through character sets controlled by the user. It also has controls to alter the color and add additional data to be drawn. The entire palette available on the C64 is in use (all 16 colors!).
Daniel Temkin is a NYC-based photographer, digital media artist, and programmer. He has exhibited his work in the US and Europe, including the American University Museum and the Bent Festival. He is currently an MFA candidate at the International Center of Photography, and has worked as a programmer for fifteen years. He has served as an artist in residence in Budapest and in Southern Italy.