"2013" Benjamin Cadon (FR)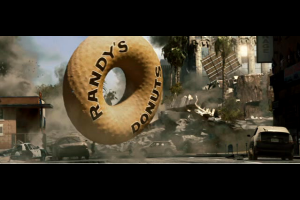 2013 is an audiovisual performance based on the famous blockbuster, reorchestrated live with a glitchy loopy approach. The world has bugged out. After the 12 of December 2012, everything became mad, the time was glitched in small loops that slowly evolve or bump from one to another. Audiovisual de-construction. A specific open source tool has been developed to manipulate live audio and video in several way.
Benjamin Cadon is a media artist who lives and works as project manager for Labomedia, a media lab in Orléans - France. Lately, he has been active in several projects about subjective cartography, electromagnetic fields, post humanism and develops audio-visual performances and installations using open source real-time softwares and electronic devices.
http://www.labomedia.net
http://www.01xy.fr
http://benjah.free.fr/2013.htm
Noish Vs Automata_v001 (ES)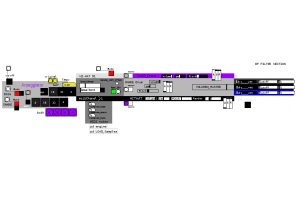 Noish Vs Automata_v001 is a software based live improvisation. Noish used the software Pure Data to create a sonic automaton that relies on seven small sound seeds. During the perfomance these seeds are transformed, mixed, processed through different iterations.
Oscar Martin, AKA Noish is a sound explorer interested in computer music, the aesthetics of error and generative noise. He uses Pure Data to develop his own environment dedicated to algorithmic compositions and the deconstruction of sound field recordings.
http://noconventions.mobi/noish/
Segmentation Fault (ES)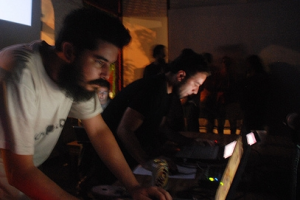 Segmentation Fault is an investigation into computer assisted drones and noise music. From granular synthesis to phase vocoder, Fibonacci sequencers to generative algorithms, they invite you to witness an intense construction and deconstruction of digital noise.
Segmentation Fault are musicians Xavi Manzanares, AKA daax!, from Barcelona (ES) and Oscar Martin, AKA noish~ from Winterhur (CH). Their collaboration debuted in the Spanish audionerd underground scene, and since then they have performed at Hangar (ES), CSOA La Fibra (ES), Pure Data Convention 2009 (BR), Linux audio conference 2008 (DE), VAD08 (ES) and nitcasm08 (ES).
placard
headphone concerts by Benjamin Cadon "2013" (France), Marije Baalman "Code LiveCode Live" (Netherlands), Noish "Noish~ vs Automata_v001" (Spain), Alberto de Campo (Austria), Segmentation Fault (Spain)
Every year make art encloses itself in a "placard" (cupboard in French) for one evening. It is a place dedicated to headphone listening only, where unusual sound and visual experimentations occur, at the crossroads of electronic, improvised and noise music. Come and join us in our "placard", we will make some room for you. Tonight Benjamin Cadon will reorchestrate and debug the famous blockbuster 2012 using micro-loops, Marije Baalman will livecode from her own livecoding performance (!), Noish~ vs Automata_v001 duo will grow an improvisation starting from seven sound seeds, Alberto de Campo will combine analog and digital meta-control to make a musical exploration on the fly, while Segmentation Fault will patch and merge drones with deconstructed rhythms.
Limited numbers of headphones and pillows so don't be late or bring yours!
Saturday 6th November 2010 21:00-00:00
Venue: Maison de l'Architecture
free entrance
in collaboration with the Confort Moderne
"Code LiveCode Live" Marije Baalman (NL)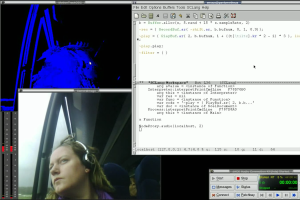 Livecoding the manipulation of the sound of livecoding, causing side effects, which are live coded to manipulate the sound of livecoding, causing side effects, which are live coded to manipulate the sound of livecoding, causing side effects, which are live coded to manipulate the sound of livecoding, causing side effects, which are live coded to manipulate the sound of livecoding, ...
Marije Baalman is a freelance artist interested in the realtime interactions of her work with the environment, the performer and the audience. She composes processes which evolve over time and make themselves apparent in sound, light and sometimes other media. She has studied physics, acoustics and computational arts at various universities and works internationally both solo and in collaborations.
Alberto de Campo (AT)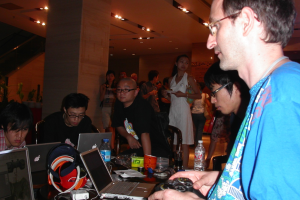 Alberto de Campo plays with a hybrid setup that includes analog electronics, software instruments played with controllers, code as performance interface, and multiple levels of meta control applied to all running processes. He is interested in exploring the apparent conflict between making decisions on the spot and creating a meaningful flow of musical structures in time.
Alberto de Campo (Austria/Germany) is professor for Generative Art / Computational Art at UdK Berlin. He has worked on synthesis software with Curtis Roads, Florian Hecker, and Marcus Schmickler, and taught computer music at many international institutions. His research interests include sonification, algorithmic methods in the arts, and just in time programming; he loves playing with powerbooks_unplugged and improvising with electronic and acoustic musicians in varying contexts.