FLOSS+Art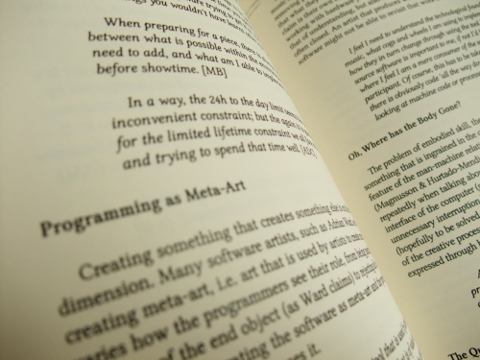 FLOSS+Art critically reflects on the growing relationship between Free Software ideology, open content and digital art. It provides a view onto the social, political and economic myths and realities linked to this phenomenon.
With contributions from: Fabianne Balvedi, Florian Cramer, Sher Doruff, Nancy Mauro Flude, Olga Goriunova, Dave Griffiths, Ross Harley, Martin Howse, Shahee Ilyas, Ricardo Lafuente, Ivan Monroy Lopez, Thor Magnusson, Alex McLean, Rob Myers, Alejandra Maria Perez Nuñez, Eleonora Oreggia, oRx-qX, Julien Ottavi, Michael van Schaik, Femke Snelting, Pedro Soler, Hans Christoph Steiner, Prodromos Tsiavos, Simon Yuill
Compiled and edited by Aymeric Mansoux and Marloes de Valk.
FLOSS+Art is triple licensed GNU GPL, GNU FDL and Free Art License. Rather than just providing a "free" PDF, we've made a FLOSS+Art ebook available, which contains all the Fonts, Images, PDF and Scribus source files that were used to make the book. Feel free to branch a translation or fork the chapters! ;)
You can order a paper copy here: amazon.co.uk, amazon.com or mute.
Or download the ebook here: http://thepiratebay.org/torrent/4671426/FLOSS_Art_v1.1
More information about the book can be found on people.makeart.goto10.org
FLOSS+Art is published by Openmute and is made possible with support from the Willem de Kooning Academie, Constant, GOTO10 and the University of Huddersfield