2015-01-23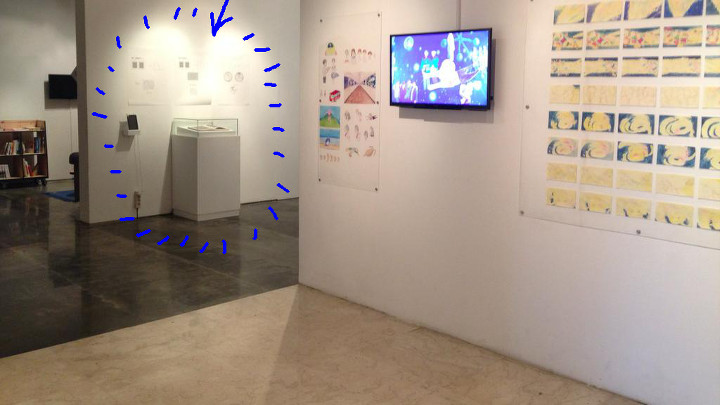 The Tokyo National Art Center owned copy of the SKOR Codex is taking a trip to Bandung in Indonesia at Selasar Sunaryo Art Space, as part of the CRYPTOBIOSIS exhbition curated by NAKAO Tomomichi from the Fukuoka Asian Art Museum in Japan.
One of the greatest discoveries in art history to occur in 2014 was surely the world's oldest cave paintings found on the island of Sulawesi in Indonesia. Showing hand shapes and animal drawings, these ancient cave paintings encapsulate the impulses of the people who lived here amidst Sulawesi Island's natural wilderness that they needed to express and record just like a time capsule.

Even if they are not ancient cave paintings, artistic works are all essentially time capsules encapsulating the emotions experienced by the artist at a certain time and in a certain place in the sense that something hidden within each work is given new life and begins to more through the empathy of viewers.

In biology, the act of animals and plants temporarily shutting down life activity in order to survive in the harsh natural environment is called "cryptobiosis (hidden life activity)". Lotus flowers germinating from seeds that are several thousands of years old and water bears that did not die after being released into cosmic space for several days can be said to be astonishing examples of cryptobiosis. That is to say, cryptobiosis is simultaneously the stopping of life activity premised on the expectation that the life activity will start up again and a method for survival.

Here, by amplifying the biological phenomenon of cryptobiosis to include human social activities and media art, we wish to consider nature and archives as latent human capabilities or memories, old and new styles or technologies, and the wellspring of art. To this end, from amongst past award-winning works of the Japan Media Arts Festival we wish to focus on works that attempt to resurrect through some method something that has been buried somewhere in our world, their existence and value long forgotten, and try to gather together in Bandung, Indonesia.
The opening is today (23rd January 2014), more information can be found here, with the participation of YAMAMOTO Yoshihiro, Saigo No Shudan (ARISAKA Ayumu, OITA Mai, KOHATA Ren), KANNO So & YAMAGUCHI Takahiro, TOYAMA Keiichiro, Nanmo (YANAGIHARA Takayuki), La Societé Anonyme, WADA Ei, INABA Takuya, James Bridle, SHINTSUBO Kenshu+IKEGAMI Takashi, IGARASHI Daisuke, Syaiful Aulia Garibaldi, Bagus Pandega.