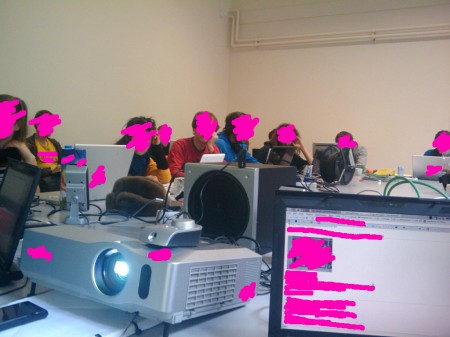 Public Lecture: Joris van Hoboken, Nicolas Malevé and Aymeric Mansoux
Date: Wednesday, 16/03/2011
Time: doors open at 18:45, lecture begins at 19:00
Location: Mauritsstraat 36, Rotterdam
Entrance free
streamed at: http://pzwart3.wdka.hro.nl/pzwart_video.html
Bringing together artists, programmers and theorists, Sniff, Scrape, Crawl… is a series of lectures examining the porous borders of privacy in the digital age. Previous public events in this series have touched upon a wide rage of topics such as surveillance, data-mining, the function and limits of anonymity, and the profound influence of network architecture on social, political and legal issues.

The next three talks will continue to explore and expand upon these ideas from different perspectives. Joris van Hoboken will be looking at search engines, how they track queries and what impact data retention and profiling has on our civil liberties. Nicolas Malevé will be speaking about social network platforms and the evolution of national and international legal agreements, while drawing parallels between the processes of homogenization of the web and the processes of legislative harmonization within the EU. Lastly, Aymeric Mansoux will be talking about *Naked on Pluto*. The project, which is a collaboration between Mansoux, Dave Griffiths and Marloes de Valk, is a multiplayer text adventure game on Facebook that explores the perils of centralized social networks.
Joris van Hoboken (NL) is a Ph.D. candidate at the Institute for Information Law, and his thesis focuses on regulatory aspects of search engines. He graduated cum laude in both Theoretical Mathematics (2002) and Law (2006) from the University of Amsterdam. His LL.M. thesis dealt with the new Dutch regulations on access to personal data in criminal proceedings, i.e. an analysis of how citizens' interests are implicated in the limitation of such access. Until 1 September 2006, he worked as a paralegal at the Hogeschool van Amsterdam and as a co-director of Bits of Freedom, a digital civil rights organisation.
Main site: http://www.jorisvanhoboken.nl/
Nicolas Malevé is an artist, software programmer and data activist developing multimedia projects and web applications for and with cultural organisations. His current research work is focused on cartography, information structures, metadata and the means to visually represent them. He lives and works in Barcelona and Brussels. Since 1998 Nicolas collaborates with Constant, a non-profit association, based and active in Brussels since 1997 in the fields of feminism, copyright alternatives and working through networks. Selection of works: *Copy.cult and the Original Si(g)n*, a project of investigation on the alternatives to author's rights. www.constantvzw.com/copy.cult/home
*Yoogle!* an online game that allows users to play with the parameters of the Web 2.0 economy and the marketing of personal data. http://yoogle.be
Aymeric Mansoux (FR) is an artist, musician, media researcher and core tutor at the Piet Zwart. In 2003, he founded GOTO10 with Thomas Vriet, a non profit organization and artist collective, with the goal to promote the use and support of free software in electronic music and media art creation. Aymeric has been active in the collective until 2010 and initiated several projects such as: 'make art', a yearly international no nonsense festival for software artists using and writing free software; 'Puredyne', a popular live GNU/Linux distribution for creative media and the 'FLOSS+Art publication', the first collection of essays on FLOSS and digital art production.
Main site: http://su.kuri.mu/
Naked on Pluto: https://archive.bleu255.com/nakedonpluto/
The *Sniff, Scrape, Crawl…* public lecture series has been realised with the collaboration of Research Programme (Lectoraat) Communication in a Digital Age.
Tags: anonymity, bits of freedom, constant, data mining, discussion, friends, lecture, piet zwart institute, privacy, rotterdam, social networks